Rug Tufting Workshop Malaysia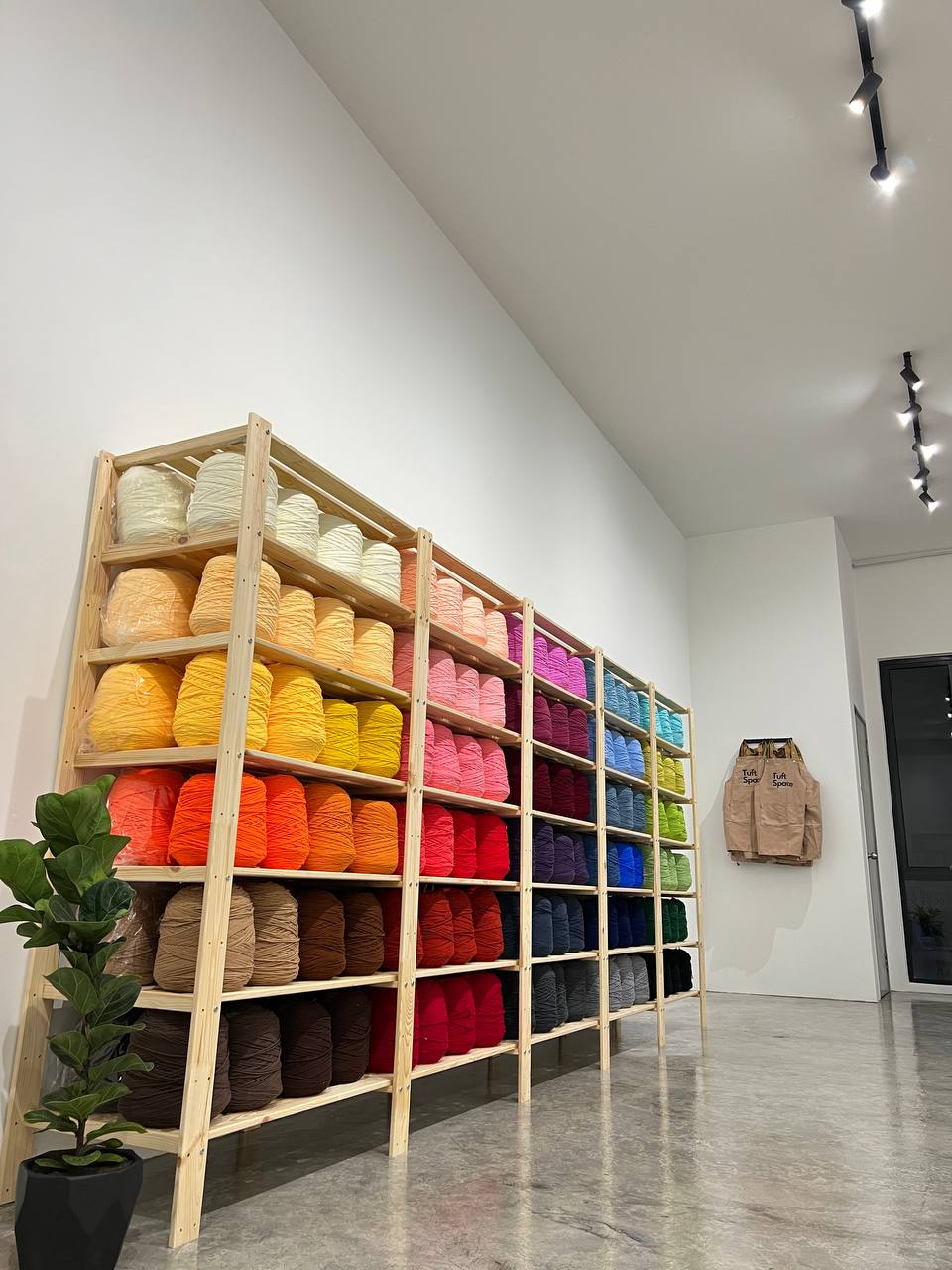 In this workshop, you will learn to use the tufting gun to create a contemporary rug or wall-hanging art that you can proudly call your own. We'll take you through the basics of operating the gun and within minutes, you'll be able to create rows of stitches on the one end to see fluffy tufts of yarn blossom on the flipside; slowly hand making your own personalised rug - one tuft at a time.
You will be provided a tufting gun, monk's cloth, 80 colors of acrylic yarn to choose from, rug tufting frames, fabric glue, and felt finishes. Projectors are available to help in sketching your design as well.
What you'll learn:
Introduction to AK-I cut pile machine

Learn to transfer your design/drawing onto the primary fabric

Detailed guidance on operating a tufting gun

Tufting techniques

Slow make your rugs and see your designs come to live; tuft by tuft
We offer 2 different packages :
1 Day Rug Completion
Just Tufting

Rugs will be ready within the same day.
You will be guided through the end to end process to make your finish product. From tracing, to tufting, backing and trimming.
Duration is slightly longer than Just Tufting for the backing and trimming process.

Suitable for those looking to Tuft only.
Professionals will handle the finishing process for you and guarantee you a PRETTY RUG!
Overall shorter duration.
Rugs will be ready in 2 weeks and you can opt to pick up or have them delivered to you at RM10/rug.
Size and Duration Guide :
| | | |
| --- | --- | --- |
| | 1 Day Rug Completion | Just Tufting |
| 30cmx30cm | 2.5 hours | 1.5 hours |
| 50cmx50cm / 40cmx65cm | 4 hours | 3 hours |
| 65cmx65cm | 5.5 hours | 4.5 hours |
| 95cmx95cm ( Recommended to share with 2 pax) | 8 hours | 6.5 hours |

For Mirror Rug, a minimal upgrade is available here: https://www.tuftspace.com/collections/tufting-workshop/products/mirror-tufting
What should I bring to class?
Come with excitement to have fun! We'll drop you a message via WhatsApp/Email with all the needed information prior to your session.
Disclaimer:
First timers can go for any packages as well as this does not determine the difficulty level.
To determine which package to go for, decide on the purpose and design of rugs you would like to make and match them to a suitable frame size.
Come unwind, enjoy good music and tuft up your very own perfect rug with your friends! BOOK NOW!
Terms & Condition:
The following are applicable to private bookings ( 8 pax and below )
Participant minimum age: 13 & Above
Rescheduling

Rescheduling may be made once to a date within 2 weeks from the original appointment date, at least 3 days before scheduled appointment time.

Reschedule slots are subject to availability.

To reschedule, please contact us via +6010-278-2378

Refund

We do not offer refunds after payment confirmation.

No-shows will be considered as slots used.
The following are applicable to Coorporate Events / Private Group Bookings ( > 8 pax )
Rescheduling

Rescheduling of event date due to unforseen circumstances can be made 1 week prior to the event date, subject to availability.
Rescheduling of event date 3 days prior to the event will not be allowed.

Refund

We do not offer refunds after payment confirmation.
For no-show attendence due to unforseen circumstances, participants are allowed to return another time to conduct the activity. Participants must contact Tuft Space 1 week in advance for date confirmation, subject to availability.
If you experience any issues with booking, please reach us at WhatsApp here
Rug Tufting Workshop | Floor Rug Tufting | Mirror Tufting | Tuft Your Own Rug | Tufting Malaysia